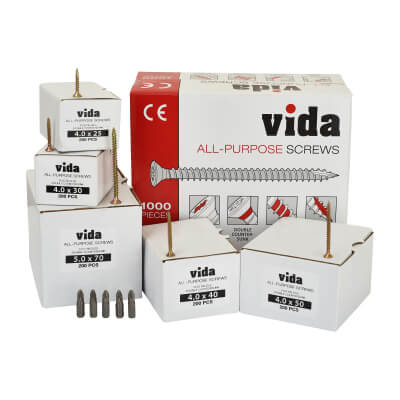 The Vida All-Purpose screw pack provides a convenient and efficient solution by containing a selection of screws.
Vida screws come in packs offering a mix of popular sizes for versatility, with features that make them resilient and reliable.
Designed to suit an assortment of materials – hardwood and MDF for instance – these screws do not require pre-drilling. The Pozi recess prevents cam-out and improves torque, and the double countersunk head decreases the likelihood of sheer and assists completion of countersinking.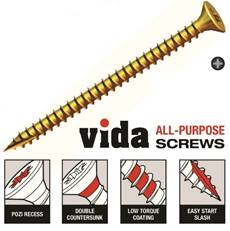 Also, the screws' low torque coating enhances insertion time, provides extra driving torque and protects from corrosion. It also has a 40° deep single thread that provides a secure fixing with high pull-out resistance and an easy-start slash.
Whatever your next project – be it commercial or DIY – these screws are the ideal solution, saving you time and money when selecting the right screw for a job.
Available from IronmongeryDirect, along with over 15,500 other products.
www.ironmongerydirect.com