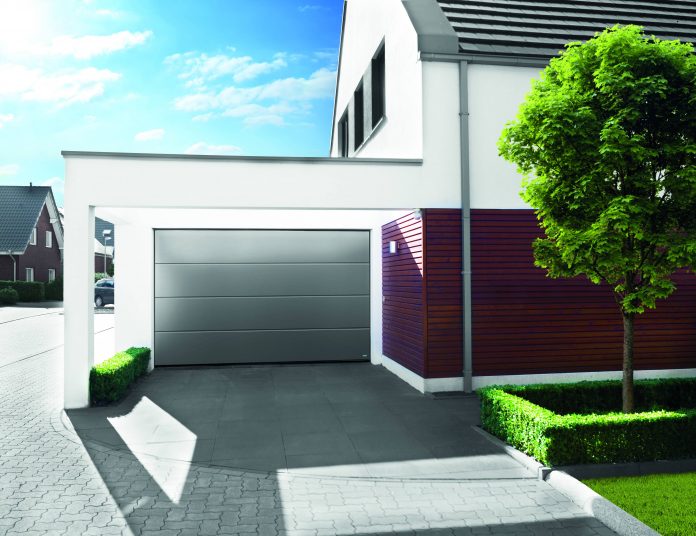 Showing their commitment to helping customers break into new markets, Dekko Window Systems are celebrating with Swindon-based Emerald Windows after the successful sale of their very first garage door – the bold, new addition to the Räum aluminium range.
The new direction comes as Emerald aims to strengthen its offering to further cement its position as the South-West's home improvement specialists. It extends Emerald's long-standing partnership with Dekko where the fabricator supplies its full range of windows and doors across Infinity uPVC, Räum aluminium and the Residence Collection.
"When we heard that Dekko had launched a premium garage door range, we knew it presented a fantastic opportunity to grow our business and provide a greater proposition to consumers across the region," commented Martin Brett, Managing Director of Emerald Windows. "You wouldn't think twice about upselling a new entrance door with a set of windows, so why not a garage door!"
"It helps us stand out from our competitors, offering homeowners the complete home improvement package. The ability to colour-match the garage door to windows, doors or sliding doors is a great advantage too, and allows us to sell the 'bigger picture' to the customer. We're delighted to sell our first Räum garage door, and we're pleased to say we have a number in the pipeline too!"
Launched at The FIT Show 2017 during Dekko's big debut, The Räum sectional garage door range generated quite a buzz among show-goers. Available in a range of styles and exclusive colours, the sectional garage door system combines high-end design with exceptional performance – the key pillars of the Räum brand.
Each door is manufactured using quality materials, boasting a highly-insulating and durable 45mm double skin for enhanced thermal performance and weather resistance.  It can be finished with a number of glazing options and can feature an optional side door or integrated pass door for quick and easy access. The smart, sectional design means a Räum garage door can deliver more space both inside and on the driveway than the traditional 'up and over' design. It can also be operated using the innovative 'SmartGarage' smartphone app.
"The response to our garage door range has been immense as more businesses across the industry look to reach new markets and deliver something different to their competition," adds Kurt Greatrex, Sales Director at Dekko. "It's great to see Emerald Windows continue to fly with another one of our product lines – joining a long list of businesses who have been able to answer any consumer demand thanks to our comprehensive range of high-end home improvements."
For more information contact Dekko on 0161 406 0055 or visit www.dekkowindows.com