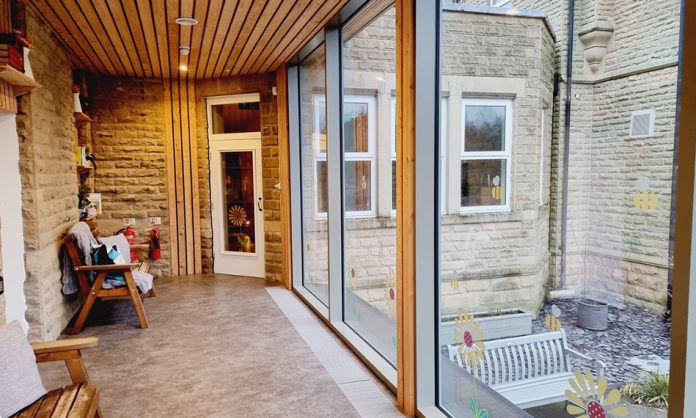 Crystal Architectural Aluminium provided discounted double glazing and glass for Derbyshire-based Reuben's Retreat
A generous aluminium fabrication and installation specialist has pitched in to offer their help and support to a charity which helps families of complexly poorly children and families of child loss.
Reuben's Retreat, based in Glossop in Derbyshire, is a place for families to make special memories and to receive support in a safe, compassionate and loving environment. The retreat was born in memory of Reuben Michael Graham who tragically passed away in August 2012 from a rare and aggressive brain tumour, aged just 23 months.
The charity, which is converting an old cottage hospital, is undergoing extensive renovations and has just seen the opening of a new activity wing which includes a hydrotherapy pool, accessible changing areas and a sensory room. Greater Manchester-based Crystal Architectural Aluminium discounted double glazing and glass for the renovations. Plans for the next stage of the development, which will include accessible suites for families, will be submitted for approval shortly.
Over the past nine years, Reuben's Retreat has helped over 1,400 individuals through a range of therapeutic activities, counselling, support groups, fun events and short breaks. As of February 2022 the charity is actively working with over 650 beneficiaries.
Nicola Graham, Reuben's mummy and the charity's founder, commented: "We genuinely can't say thank you enough to these kind and generous companies and individuals. Every penny saved in the build means we can help more families access the support they so desperately need. Whether it is children collecting money for a sponsored walk, a small local business donating the skill of a talented team member or a big corporation donating goods, so many people have played a part in getting our new activity wing up and running. In December alone 573 individuals were able to benefit from the new facilities and we see first-hand what a difference they can make to the day-to-day lives of families. We are more grateful than we can say, as we look ahead to the exciting next phase of our development."
For more information about Reuben's Retreat go to www.reubensretreat.org or follow @ReubensRetreat on Facebook or Twitter.