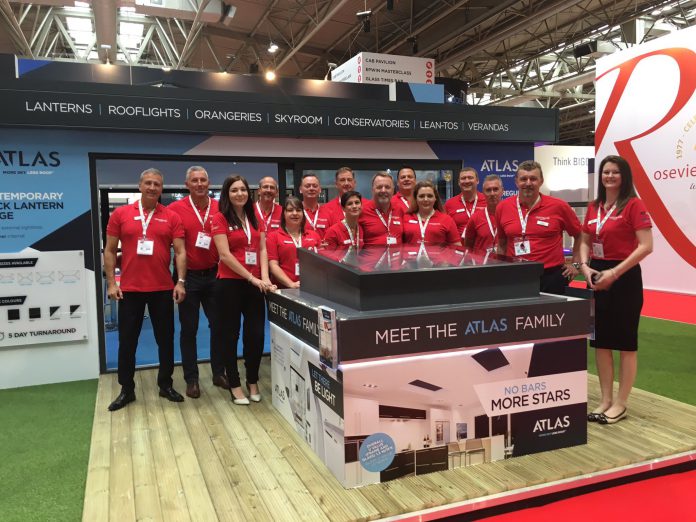 The Atlas team picked up a record number of enquiries for its glazed roof products at the FIT Show.
Visitors to the Atlas stand were treated to an array of contemporary glazed roofing products from minimalist lanterns to the latest in lean-to design.
The star attraction was the Atlas Flat Rooflight which featured a novel video of the Atlas family inside it to capture visitors' attention. Scores of show-goers were drawn to the sleek, minimalistic design of the rooflight which brings ultimate performance and maximum light.
Two Atlas lanterns stood prominently on the edges of the Atlas stand – the biggest stand that Atlas has ever taken at the FIT Show. The business also unveiled its 'Skyroom Lean-To,' incorporating a raised internal ringbeam and 300mm high contemporary aluminium external cornice to create the look of a genuine orangery. Visitors were clearly impressed with its slim-line 40mm wide internal ridge and rafters which maximise the amount of glazing within the roof.
For further information, please contact Atlas on marketing@atlasroofsolutions.co.uk or phone 02838 327741.