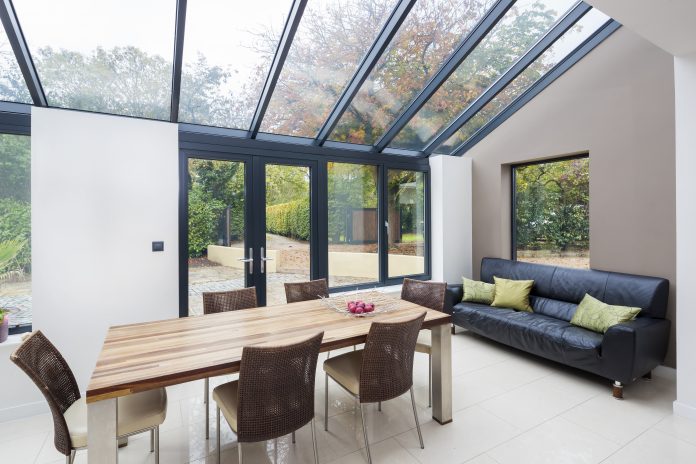 Specifying the right glass can provide both style and substance in an overhead setting.
Phil Brown, European regulatory marketing manager at Pilkington United Kingdom Limited, part of the NSG Group, offers his top tips.
A glass roof in a conservatory or skylight not only adds a touch of style to a home, it can also make rooms appear bigger and brighter. Additionally, incorporating the latest glazing technologies in a roof can save money on heating bills, cut cleaning demands and reduce the amount of noise transmitted during bad weather.
Here are some helpful tips for choosing the right glass when installing or renovating a roof:
Safety first. Specifying the correct glass is essential, especially if the roof is sloping. If the glazing forms part of an accessible roof area, then it may also need to be treated as a glass floor.
Bring the outdoors in. Thanks to its ability to provide unobstructed views, structural glazing can help create the illusion of being outside when used in an overhead setting, while still offering occupants the warmth and comfort of a living room or conservatory.
Forget about the cleaning. Pilkington Activ™ Clear has a unique dual action microscopic coating that reacts with daylight to break down dirt, before washing it away once in contact with rainwater. This is perfect for use on those hard-to-reach roofs.
Mix and match. By combining high-performance products such as Pilkington Activ™ with Pilkington K Glass™ or Pilkington Optitherm™, a glass roof can not only be kept clean, it can help to minimise heat loss during the winter.
Bin those earplugs. Plastic conservatory roofs are unbearably noisy when it rains. Specialist glass incorporating noise-reducing technologies, such as those in Pilkington Optiphon™, can make a conservatory the most enjoyable room to relax in all-year round.
Don't overlook overheating. Selecting solar control glass such as Pilkington Suncool™ or, with a self-cleaning option, Pilkington Activ SunShade™, as the outer pane of an insulating glass unit (IGU) could help to reduce solar gains during the summer.
Get the best of both worlds. Use a rooflight to let natural sunlight into a room, but restrict the view from the outside using Pilkington Optifloat™ Opal or Pilkington Texture Glass – ideal for use in urban, built-up environments where privacy is preferred.
In case of a break. Although toughened glass can be specified for its strength and safety, Pilkington Optilam™ may be preferred as the lower pane of the IGU. In the unlikely event of breakage, the interlayer should hold the broken pieces together.
Get loaded. Most roof glazing will be subjected to wind (upward and downward) loads and snow loads. It is important to make sure loading calculations have been carried out to demonstrate the glazing can resist the pressure without fracture or excessive deflection.
Reference the codes. Although there is no Building Regulation covering sloping and horizontal overhead glazing, guidance in BS 5516, the British Standard code of practice, should be followed.
Following these tips can help installers go above and beyond for their customers, enabling homeowners to enjoy the benefits of their conservatory or rooflight all year round.
For more advice on Pilkington's extensive glass range, please view the webpage: www.pilkington.co.uk.