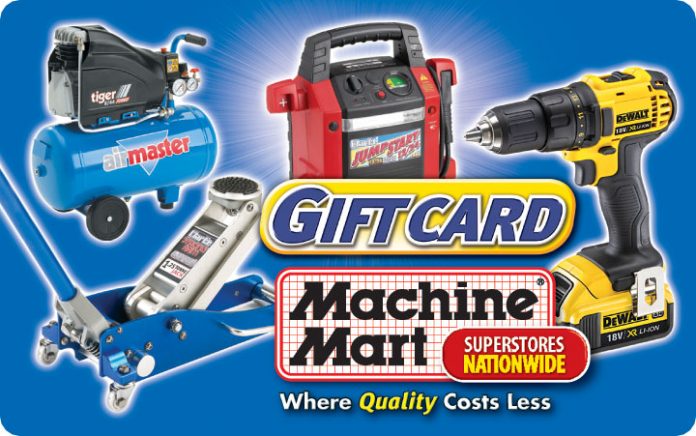 Why not let friends and family choose a pressy for themselves with a Machine Mart gift card – perfect for those with a craving for tools and machinery.
You can also order gift cards online. An E-Voucher can be sent in a personalised email style, courtesy of Machine Mart, whatever the occasion may be.
Machine Mart gift cards and E-Vouchers can hold any value from £20 to £250 and can be used in any of Machine Mart's 66 superstores nationwide.
To find out more about Machine Mart's gift cards, its huge choice of tools and machinery or to order a free catalogue, visit the superstores, go online to www.machinemart.co.uk or call 0115 956 5555.
Here are just a few of Machine Mart's latest products, ideal for that handy gift:
Brushless Impact Wrench
The new Clarke CIR18LIC is a powerful and stylish 18V compact ½" impact wrench with a comfortable handle, ideal for any tool box.
It features a brushless motor for increased long-term efficiency, three forward/reverse gears and three LED work lights allowing high visibility when working.
Maximum torque delivery 450Nm
Maximum speed 2000rpm
Gear speeds 100, 1500 & 2000rpm
2900 impacts/min
Complete with this model are 2x 2.0Ah Samsung lithium ion power packs, quick charger, belt clip and moulded carry case.
Price: £137.99.
Clarke SDS+ Rotary Hammer Drill
The Clarke CRD1100 is a powerful multi-function SDS+ Rotary Hammer Drill perfect for jobs such as drilling concrete lintels.
With a powerful 1100W motor, an impact rate of 4200 blows per minute and three functions (drilling, drill/hammer and hammer only) this rotary hammer drill makes drilling and chiselling brick and block work a simple task, with a large diameter drilling capacity of 13mm on steel, 28mm on concrete and 40mm on wood.
Accessories include a 13mm keyed drill chuck, two chisels, 3 TCT drill bits and a tough moulded storage case.
Price: £75.59.
10W COB LED Work Light
The Clarke COB10C is a 10W COB LED work light that is powered by an LED with a long lasting 20,000-hour life expectancy and an energy efficiency rating of A+.
This model provides a bright 800 lumen white light and is IP65 rated meaning the light is suitable for domestic use, internal and external site use, making it ideal for trade and leisure purposes.
Complete with the work light are a strong floor stand and carry handle for easy manoeuvrability.
This model is available in both 110V and 230V.
Price: £21.59.
Clarke Micro Multi-Function Jump Start/Charger
This amazingly small and lightweight portable lithium-ion power pack acts as a multi- function jump start, charger and torch – the ideal compact emergency power source this winter.
The CLIPPJS can be used as:
Jump start suitable for a car with a flat battery with a starting current of 200A and a peak current of 400A.
Lithium-ion power pack with 2x USB 5V ports and 12V/16V/19V outlets
1W LED torch
Also included are a range of connectors including vehicle aux, mains charger and a 4-in-1 device adaptor for phones, tablets, etc.
This device only requires approximately six-monthly recharge if not used, is small enough to fit into a vehicle glove box and can start diesel engines up to two litres and petrol engines up to 2.5 litres.
Price £89.99.