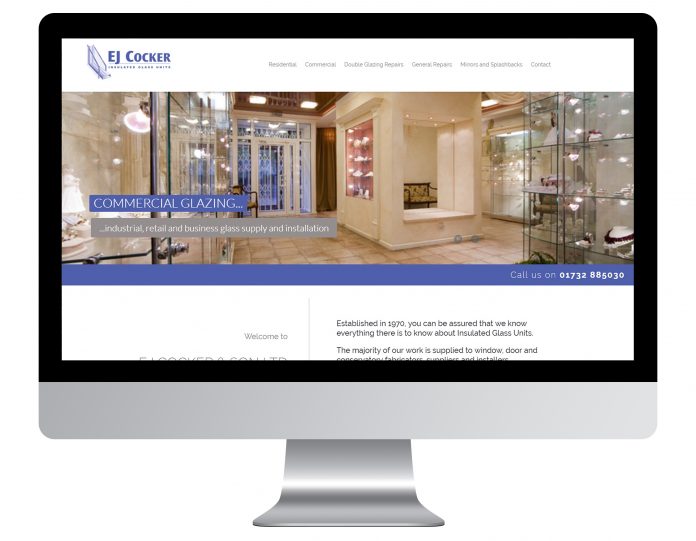 Sealed unit specialists E.J. Cocker & Son have followed in the footsteps of sister-company Slenderline Glass, advancing their online presence with the launch of their brand-new, state-of-the-art website www.ejcocker.com.
The new website showcases the Kent-based firm's full range of services which include manufacturing insulated glass units for residential and commercial applications as well as mirrors, bespoke splashbacks and repairs. The new site adopts a simple, minimalist style which is easy to navigate for new and existing customers.
It also features an eye-catching slideshow showing recent installations; galleries of products and case studies, including bespoke glazing commissions, commercial projects and splashback installations; in addition to useful information on repair services.
"For over four decades, we have built a strong reputation with customers across the South-East and the UK for our quality IGUs and full glazing services," comments Andy Cocker, Director at E.J. Cocker. "Our next step in growing the E.J. Cocker brand was having a website that reflected that reputation, highlighting our recent successes and presenting our high-quality products in the best possible light."
With developers firmly focused on making the new E.J. Cocker website user-friendly, it offers a new and intuitive contact form as well as handy breakdowns of the company's glazing methods, decorative glass designs, visual quality standards, and available glass types.
"We wanted to create a site that could serve as a resource for our existing customers whilst providing potential partners with the information they need on who we are and what we can offer their business – and I believe we have achieved that," adds Andy. "We look forward to forging ahead with this new website representing us, as we continue to grow our presence outside the South-East and across the UK."
E.J. Cocker & Son is a subsidiary of the E.J. Cocker Group, which also includes Slenderline Glass. Founded in 2012, Slenderline Glass is the leading manufacturer of advanced slimline units for all heritage windows. Available in a full range of sizes to match any traditional rebate, Slenderline units combine authentic heritage aesthetics with cutting-edge thermal efficiency. This is achieved through leading warm-edge technology from Edgetech, as well as either Argon or Krypton gas.
Founded in 1970, the EJ Cocker Group is one of the UK's leading specialists in advanced, insulated sealed units. Through their two businesses, EJ Cocker & Son and Slenderline Glass, the group manufactures and supplies sealed units for internal and external use in residential, commercial and traditional buildings. Based in Kent and operating across the UK, the firm also specialises in repairs, glass for balconies and canopies and bespoke splashbacks.
For more information call 01732 885030 or visit www.ejcocker.com or www.slenderlineglass.com.