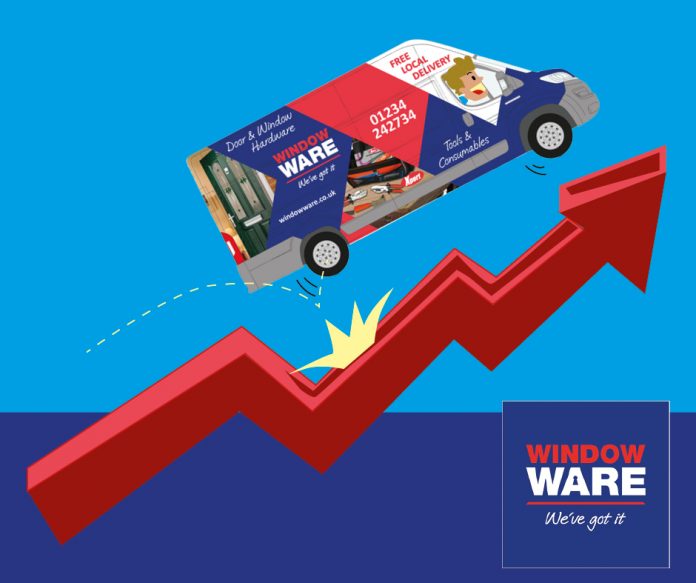 It wasn't just the temperatures that reached new heights in July! Last month, Window Ware broke some records of its own too! Not only did it smash its sales targets and see its best sales month since 2014, the leading UK hardware provider also achieved its highest 98.11% OTIF this year too.
Even since the start of the year, Window Ware has managed to outperform its market month on month. So, while the UPVC door and window market continues to contract, Window Ware is managing to meet its sales forecasts and win new business despite extremely challenging conditions.
Managing Director, Sam Nuckey, attributes the company's trend-busting success to the introduction of some in-demand new products, a new PR and marketing strategy, plus a friendly, yet focussed customer-centric sales approach.
One example of a star-performing new product range is the Regal Hardware collection of heritage window handles, stays and pegs. These products answer the call for authentic-looking furniture that enhances increasingly popular flush sash windows. Despite the bygone style, these handles offer modern convenience and usability with their positive stop feature and standard key locking.
"It's not just great products that have been winning over new customers and fuelling growth for us", explained Sam. "Window Ware has also been boosting its profile in the trade press and making new connections with the help of marketing powerhouse for the building industry, Purplex. Together, we've been working hard to affirm our reputation as the UK's No1 hardware distributor and build even greater trust, both with our brand partners and our customers."
"You can't stand still in this competitive industry", emphasised Sam. "We're always searching for the next big thing, looking for new ways to meet emerging trends and fulfil customers' changing needs. There's no doubt, you'll see our product portfolio change and grow further in the months to come. One thing is for sure, though! There'll be no change in our renowned first-class service levels. As this year's winner of the SME Bedfordshire Business Service Excellence award, happy customers are our top priority, so we'll be ensuring, we've got the people, processes and infrastructure in place to support our growing sales volume and maintain top-notch service standards, today and tomorrow!"
About Window Ware
Window Ware is one of the UK's leading distributors of window and door hardware, tools, fixings and consumables to the fenestration market. Based in Bedford, the company is renowned for supplying some of the best-known, most trusted brands like Yale, MACO, Trojan, Xpert, Greenwood Airvac and RW Simon, all backed by excellent next-day service and unrivalled expertise. Find out more and browse their product online at www.windowware.co.uk.